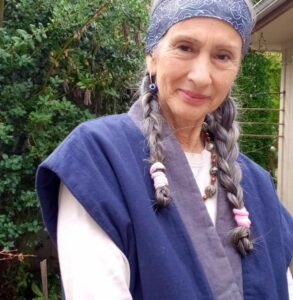 There is a place on Oahu called "Heiau", a medicinal Healing Temple, that has become a state park. Many years ago a medicine doctor or priest who specialized in healing resided there. People would come to learn and get healing from the Priest. He trained students in the practice of medicinal healing using plants, fasting, and prayers. No one could explain the Powers of the Herbs used in his healing.
In my Healing Garden, here in Elmira, herbs, flowers, and various plants have been planted for this same purpose, to guide you, and  to sit with the plants towards your healing journey. 
I am the force behind Blossoming Lotus Herbs, My name is Peony Prashanti. I am a practitioner of nature with this magical medicinal garden. I am only the messenger.
(Want to know more about me? Okay) I was a former rheumatology nurse in Honolulu, worked for the President of Arthritis Foundation, long, long ago.  I am Certified, in Reiki, Pranic Healing, Qi Gong Healing, Arhatic Yoga, and Shamanic Healing. Did I really need all of that?
I completed the Vegan Mastery program, World Peace Diet, Macrobiotic for Health, and now I have a magical garden! I needed to do all that so I can be a Herb farmer? I was soul searching. Too funny right?
Oh ya, I have birthed 8 babies, so I'm a professional mom, with grand children and a great grandma too!  I have two cookbooks out, and another one coming. Now I birth baby plants for you.
I lived in SE Asian Islands, Japan, Guam, Hawaii, Indonesia, Bali, and now in Oregon. 
Well with a name like Peony, BRIEF HISTORY: The peony flower was named after Paeon who was a student of Asclepius, the Greek God of Medicine and Healing.
Asclepius got jealous of his pupil Zeus, then saved Paeon and turned him into the Peony flower. Peony flower roots, eases the pains of childbirth, a medicinal herb in deed.  It's only natural I love herbs, flowers and nature.
The Chinese prize the Peony flower as the King of Flowers, especially for women. 
BLH is located in Elmira about 15 miles from Eugene, depends where your coming from, the scenic way or the boring hwy. My herbs are harvested by the cycles of the moon and only by me, I am the only one that touches them. 
I started my farm with Mugwort after an emotional turmoil I experienced. Mugwort saved my life, I'm sure many of us have stories like so, she saved me and brought back and much happiness, I had no idea she was an herb for sadness. 
She brought back the joy to live a bit longer, so I can  share that with you and the magic she can bring to you in my products that I create. 
She brings happiness, calming, and many medicinal remedies to your mental emotional and physical well being.
 Thank your for your visit and support.
May the Great Spirit Bless you
Peony